Lifetime Income or a Fully-Stocked Wine Cellar?
RIAs understand the critical role of lifetime income in their clients' financial lives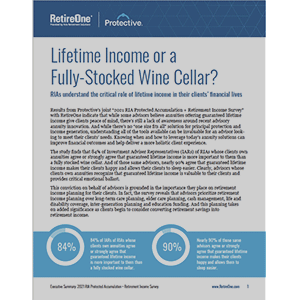 Results from Protective's joint "2021 RIA Protected Accumulation + Retirement Income Survey" with RetireOne indicate that while some advisors believe annuities offering guaranteed lifetime income give clients peace of mind, there's still a lack of awareness around recent advisory annuity innovation. And while there's no "one size fits all" solution for principal protection and income generation, understanding all of the tools available can be invaluable for an advisor looking to meet their clients' needs. Knowing when and how to leverage today's annuity solutions can improve financial outcomes and help deliver a more holistic client experience.
The study finds that 84% of Investment Adviser Representatives (IARs) of RIAs whose clients own annuities agree or strongly agree that guaranteed lifetime income is more important to them than a fully stocked wine cellar. And of those same advisors, nearly 90% agree that guaranteed lifetime income makes their clients happy and allows their clients to sleep easier. Clearly, advisors whose clients own annuities recognize that guaranteed lifetime income is valuable to their clients and provides critical emotional ballast.
This conviction on behalf of advisors is grounded in the importance they place on retirement income planning for their clients. In fact, the survey reveals that advisors prioritize retirement income planning over long-term care planning, elder care planning, cash management, life and disability coverage, inter-generation planning and education funding. And this planning takes on added significance as clients begin to consider converting retirement savings into retirement income.
Download the Executive Summary, or check out the infographic to learn more.