Clients are concerned about the future. What are RIAs doing about It?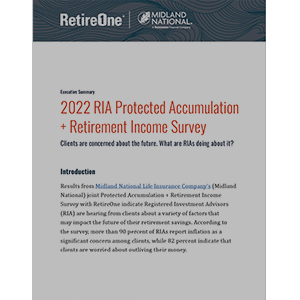 Whether it's COVID-19, the war in Ukraine, Social Security, or any of the other myriad factors, advisors say their clients are worried about being able to retire on time, and about outliving their income.
But what is being done to address client anxieties? In our joint survey of 197 financial advisors who identify themselves as either "RIA," "Dually Registered," or "Hybrid" respondents report a high degree of confidence that they have the tools to address those concerns. Do they?
Check out the infographic or download the Executive Summary to learn more.